---
We now have our fourth hut at the Quompound! Waaay back in the spring of 2019, we got it into our heads that we needed a storage shed. Our Workshop Hut had become fairly crowded with us storing construction materials and such, and we had bought a little golf cart (dubbed the Speed Buggy after the '70s kids cartoon show because it's red with chrome bug-eye lights) which was taking up some prime real estate in there as well.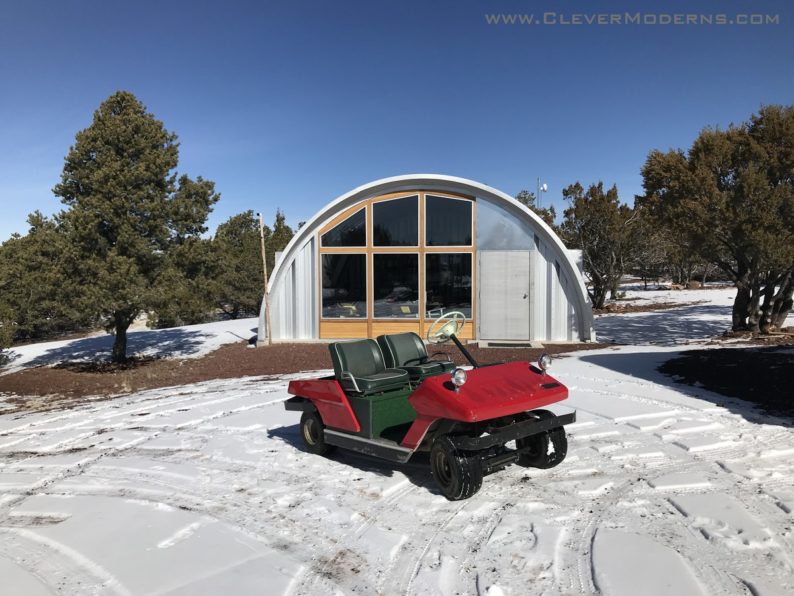 "Wouldn't it be nice," we thought, "if we had someplace else to store all this stuff, and the Workshop Hut could just be our workshop?"
"Let's get another Quonset hut!!!"
We decided on a Q20, which is the smallest traditional Q model that SteelMaster makes. Because we've mainly been focusing on the Loft House build, it has taken a considerable amount of time to get the dang thing put together. In a sort of visual timeline, here's how it all went, step by step.
---

June, 2019: Ordering the Quonset Hut
All we really wanted was a small little hut to store the Speed Buggy and some other stuff, so we thought the smallest hut, the Q20, and just four arches. Just 8 feet — let's just make it a tiny little thing, we agreed. So I went to place the order, and apparently I completely lost my head, because I told William Swafford, the rep I work with at SteelMaster, that we wanted eight arches! NOT EIGHT FEET, BUT EIGHT ARCHES!!!
Aaaaaand I didn't catch it until I had signed the order! To be completely honest though, we now wonder what we were thinking originally, and wish we had gone a couple of arches longer.
And so here we are.

July, 2019: Building Delivered
Here are the parts just after they all got delivered. They had to drop them off at the entrance to our property and we drove them in to the building site in my pickup truck.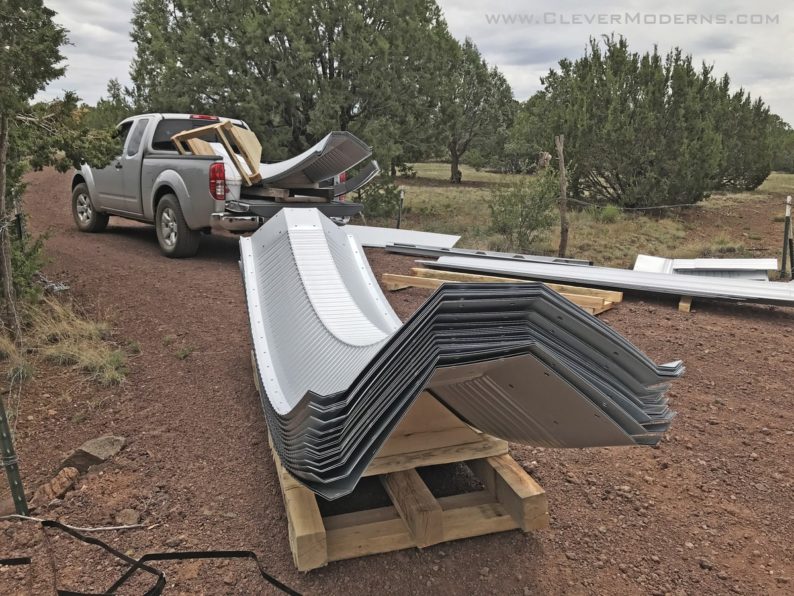 We parked them next to the Workshop Hut (shown below) and tarped them (tarp not shown) figuring we'd get the thing built soon enough.
Ha! Little did we know.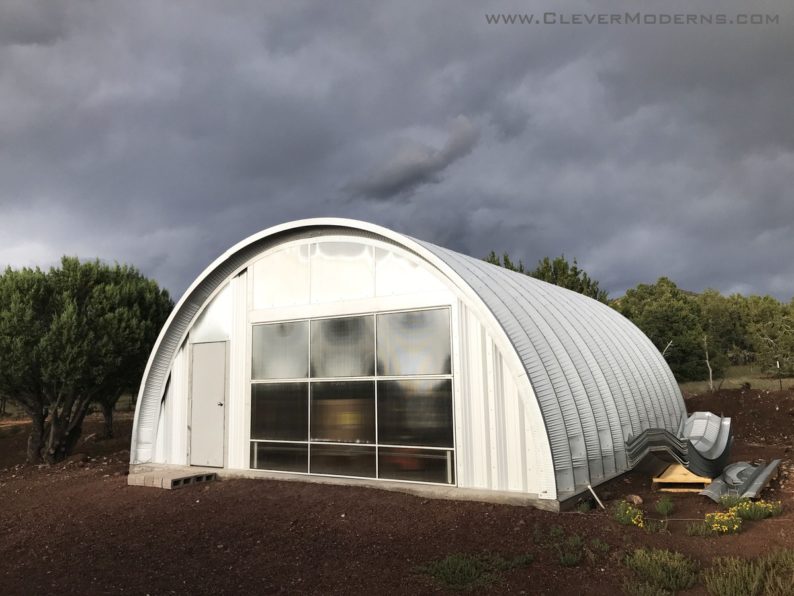 October, 2019: Pulled Building Permit
We agonized a bit about where to put the storage shed. We debated briefly whether to even mess with a permit at all. Our county exempts storage sheds and the like that are under 200 square feet from even needing a permit. That's one of the reasons we were only going to get a 20′ x 8′ building in the first place. I called the building department and learned that even though it would be under 200 square feet (if we had gotten the smaller building), the fact that it's a factory-engineered prefab steel structure required a permit, regardless.
In the end, we decided, wisely I think, to play by the rules. The permit didn't turn out to be a big deal anyway.
We had hopes of pouring our concrete and getting going before the winter freeze, but at that point we couldn't get anyone lined up to do the work. So the parts sat there waiting, under the tarp.
April, 2020: Grading and Excavation
Finally, by last spring, we were able to get things underway again. We had the building pad built up a little, compacted, and leveled. It only took a few hours. The shed is only 16×20; now we wish we had made it a few arches longer.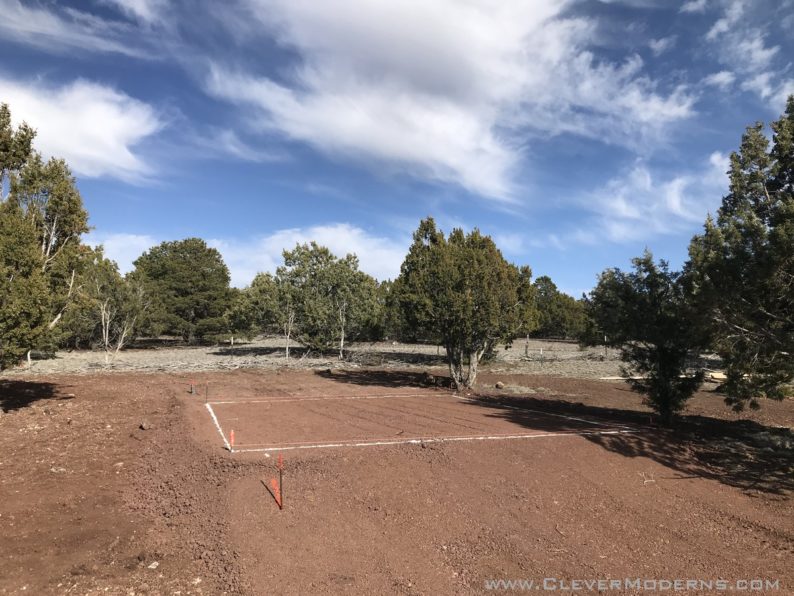 Then about a week later, our grading guy came back and dug the footing trenches. (The weird looking metal round thing right behind where our building will be is our 5,000 gallon cistern. We get asked, "what is that thing?" a lot so I thought I'd volunteer it.)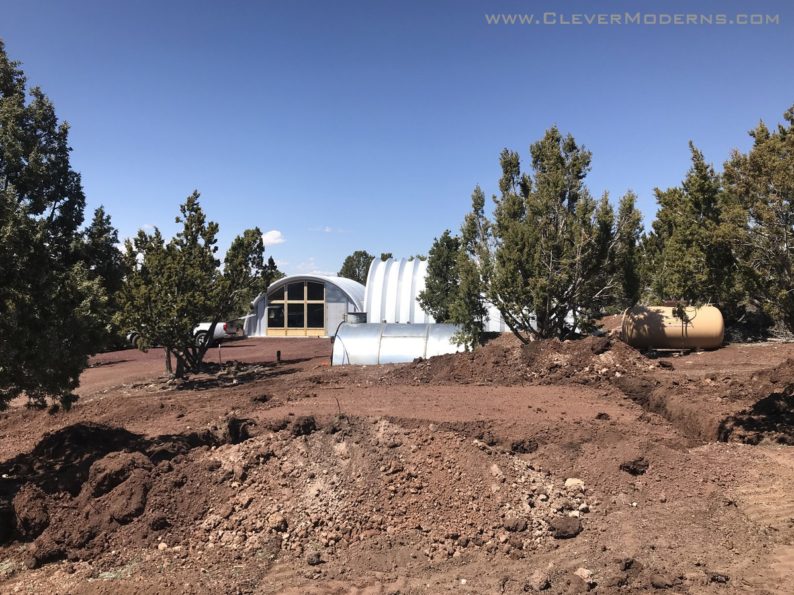 October, 2020: Forming & Pouring Concrete
Again it was just impossible to get anyone on the schedule to get our concrete going. Finally, the guy who had poured our concrete for the Headquarters and Workshop huts became available and we managed to get it done just before winter descended on Northern Arizona.
Below you can see the position of the shed relative to our other huts (you can see the formwork waiting to be poured near the bottom-center area). Towards the bottom of the picture is south, and that's the side the door will be on. It's a little less convenient facing the door away from the Headquarters Hut (at the top in this pic.), but in the winter the south-facing metal façade will reflect the sunlight and a nice amount of heat right back at the snow, melting it off relatively quickly.
We deliberately designed the pattern of boards on the west-facing downhill side of the hut to line up with and echo the rhythm of the Quonset hut arch ribs. It's not the most pristine example of board formed concrete out there, but for us, every building is an opportunity to experiment a little bit and learn a new thing. So what if it's a little rugged and tough looking — we're super happy with it!!!

November, 2020: First Four Arches
We had been planning this day for weeks and actually had to change the date a couple of times. Then when the day finally arrived it was SUPER windy. Like, dangerous to be holding giant metal sails while standing on ladders and such type of dangerous. We decided to proceed, with caution.
Once we reached four arches, we decided it was too dangerous to try to keep going, and we quit for the day. Those four arches sat there all through the winter.

March, 2021: Finishing the Arches, with Jay!
Our buddy Jay, who had helped us out before (see this post), made a second appearance at the Quompound, and helped out on the final four arches.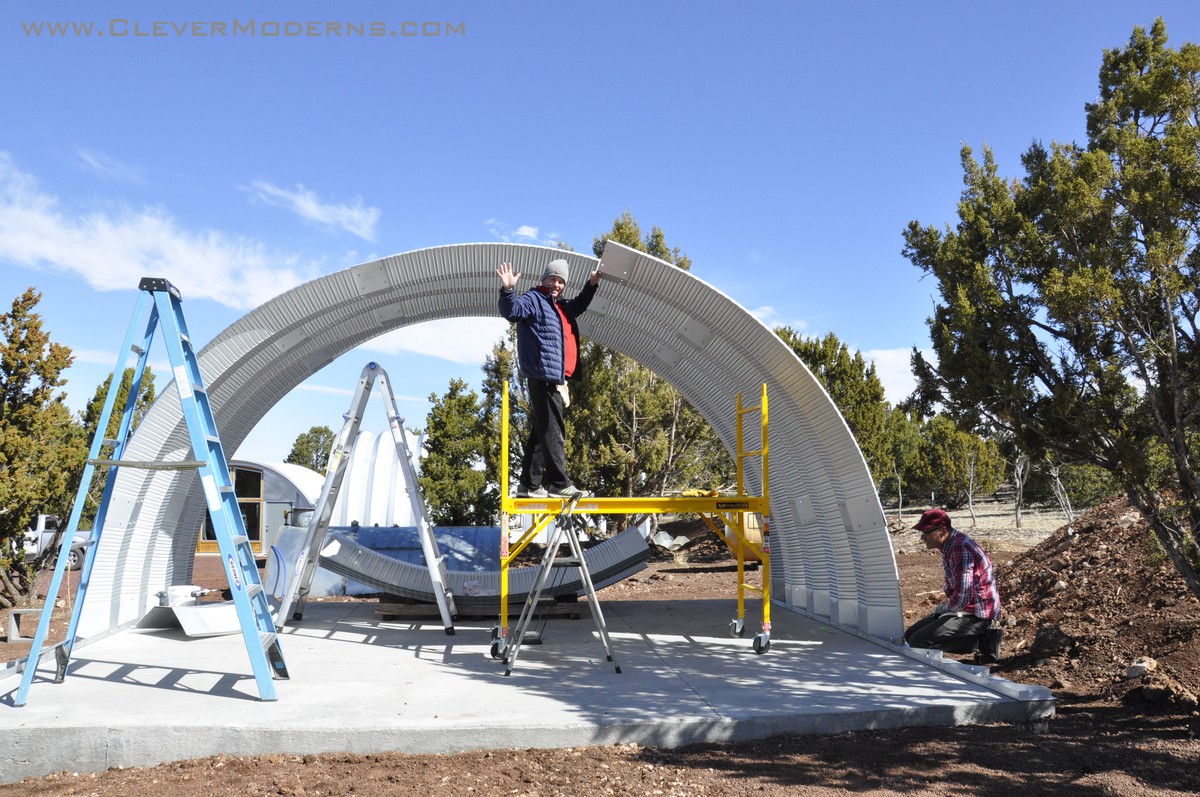 Thanks, Jay! You rock!!!

April, 2020: End Walls, Permit Sign-off, & Building the Door
Once we went back over the whole building and tightened up all the bolts, we got busy with the end walls. We basically got them done in a day. They were quick!
With the end walls on the building, we were able to call for our final inspection, which wasn't a big deal. Then we got busy with the doors for the 8′ x 8′ opening. I welded simple steel frames, which we hung before fitting in the OSB panels.
We're planning to clad the doors with corrugated metal. So technically I guess you could say the building isn't even really finally done at this point! But, we're really close, and already storing some stuff inside, since it's lockable and we're pretty sure it's critter-proof.
---
And that's the quick story of our new storage shed!
---
Curious about Quonsets? Ready to learn more about these bizarre, amazing, shiny, round, prefab structures? Drop your info below and I'll start you off on my email tutorial series. Looking to build an inexpensive but beautiful home debt-free? Considering going off-grid? Or are you just tired of the same old same old and want something unique and beautiful? A Quonset House might be the answer for you.
Follow us on Instagram and Facebook. We also have a private Facebook group called DIY Quonset Dwellers, where we share discussion, design, and construction tips with others who are interested in building their own Quonset hut house. With over 6,000 members and counting, the Facebook group has grown into an amazing resource all of its own! Learn more and request to join the Facebook group here.