---
Back in 2017, as we embarked upon our first Quonset hut builds at the Quompound, I started sharing our progress on social media. I quickly realized there was actually an audience for DIY-Quonset-themed content. With the encouragement of friends & colleagues, I created a Facebook group called DIY Quonset Dwellers. It was pretty slow going in there at first, but the Quonset Dwellers group eventually took off. As of this writing, the group has grown to over 6,000 members! Who would have thought that Quonset huts had such interest or appeal? And the group continues to grow!
One thing I have learned through this process is that although a Facebook group has been a great way to initially bring people together around this amazing and amazingly weird topic, Facebook groups more broadly have some pretty serious limitations. For example, I initially expected the group to primarily focus around design inspiration for peoples' builds. While there is a lot of that going on in the group, it turns out there is a much greater educational focus to the conversations than I thought there would be. There are a lot more people coming in there searching for basic information about construction stuff related to Quonset huts than I expected. When I started really looking into it, I identified many ways that an online community or group of some kind could do a much better job than a Facebook group at serving those looking for clear, focused content around Quonset hut homebuilding.
I came to the realization that the basic format and limitations of a Facebook group just aren't cutting it anymore, for the things I want to be able to do to create an enhanced experience for the members. (Not to mention the number of emails and messages I get from people who find me on YouTube, Pinterest, or elsewhere, who don't want to join the FB group simply because they don't want to participate on Facebook at all – but they would if it were on a more neutral platform.)
At this point, I can pretty easily argue that I, and I think the group, are ready for more. Which brings me to my big announcement.

I'm opening the doors to a new, private, advertising-free online community: The Quorum – The Quonset Forum! This is super exciting for me, and I feel like I've been building up to this point for a long time now. After doing a lot of research on what platform to use or how to pull it all together, I settled on Mighty Networks, a company empowering thousands of private online communities these days, with a great set of features.
Features of The Quorum
This is by no means exhaustive, but there are a few features in particular that I'm most excited about for The Quorum.
Courses
First, Mighty Networks gives its communities the ability to natively host online courses right inside the group. To kick things off, I'm putting together a FREE course called Quonset Nuts & Bolts.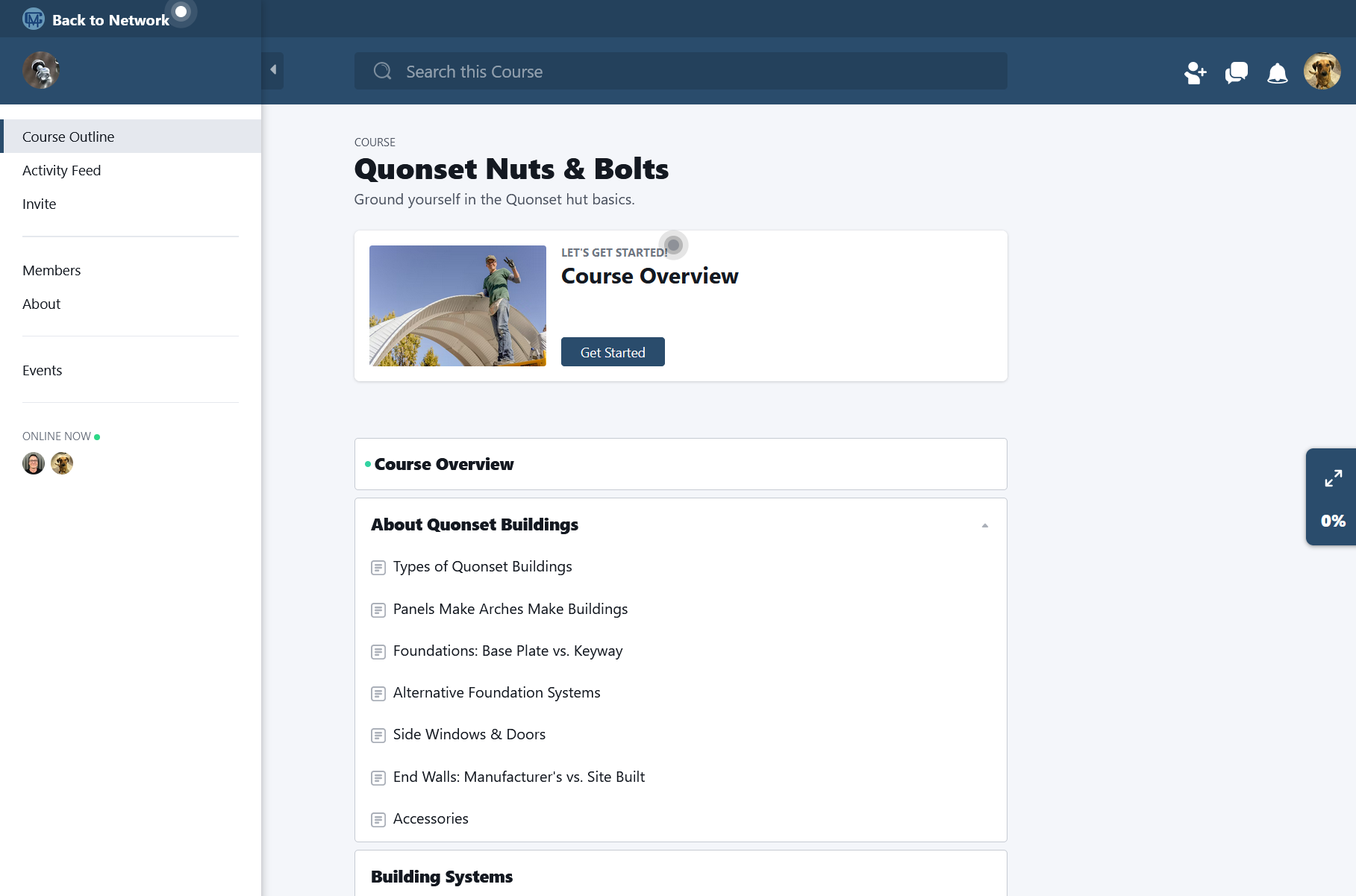 If I've learned one thing through this whole Quonset journey, it's that sharing my knowledge & information freely has really come back to me in dividends many times over. So in that spirit, I have put together a free course that lays out the basics of how Quonset huts work, and some of the fundamentals about making one into a house. It's not an in-depth how-to manual, but it does really cover a TON of information. For folks just starting out and trying to get a handle on how these buildings work, I think it will be a really excellent source of information.
And because of my commitment to sharing my knowledge far and wide, even though I am planning to charge a very nominal fee for basic membership in The Quorum, I am still making this course available for free. (More on that below.)

Topics
Another great thing about the way the Mighty Networks platform is set up is the way Topics work. You can follow or unfollow a topic to customize your Personal Feed and dial in your individual "user experience" within the group. Tired of all the discussions about foundations? Just unfollow the topic. Want to see everything ever posted tagged "Insulation + Condensation Prevention"? Just go to the Topics page and click on it to see the Activity Feed for that topic.
Right now I have set up a great starter list of topics, which is sure to grow: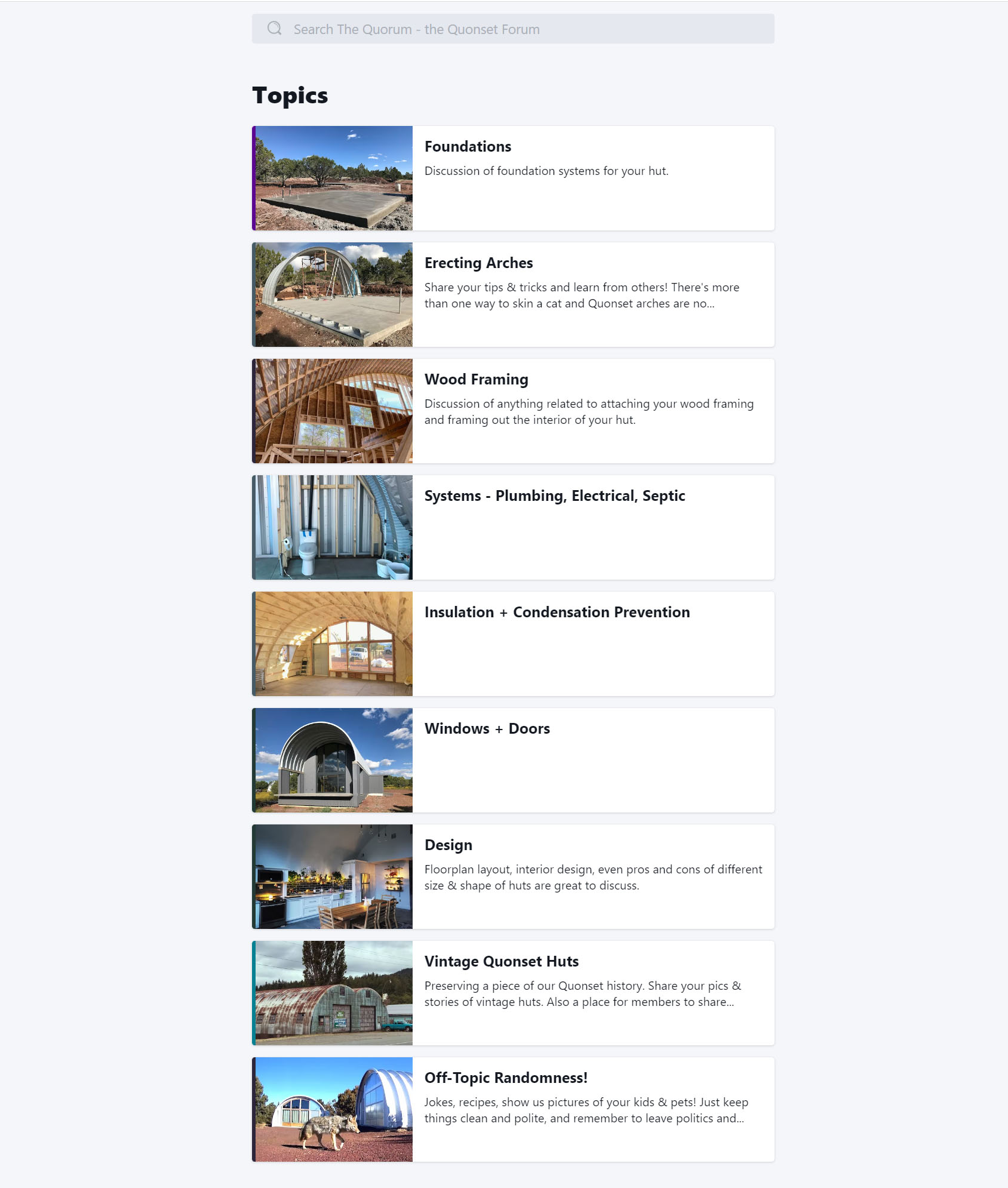 Members Near You
The next big feature I'm super excited about is the members near you feature. This will allow you to see which other members of the community are nearest to where you are located. The idea of members connecting locally and helping each other with their builds is just so exciting to me! I envision members helping each other with their builds, like modern-day barn raisings, but with Quonset huts! I love this description of barn-raisings from Wikipedia:
barn-raisings were typically occasions of community good-feeling, solidarity and festivity, as well as cooperative labor, and figured as part of a wider culture of neighborly mutual assistance

https://en.wikipedia.org/wiki/Barn_raising
It's become clear over the years that people in the existing FB group are really eager to find out who is building near them and make friends that way. And there is definitely a ton of goodwill and generosity around the idea of people helping each other with their builds, but not any good way to facilitate these interactions. It's very common in the FB group to see a post like, "Hey we're in [pick a state or region] and wondering if there's anyone else building in our area?" So I know this is something people want.
You can also follow members, just like following topics as I described above. So as people share about their builds, you can make sure not to miss a post!

Private & Advertising Free
Advertising on social media platforms today is the worst. I'm pleased to let you know that The Quorum is completely ad-free, and as a participant your data will never be sold. The Quorum is built on the Mighty Networks platform and you can read the policy for yourself on their help pages:

We don't sell your data when you join a community built on Mighty Networks (or when you create one)!

You keep complete ownership of all your content and activity. You can add posts, articles, photos, videos, questions, polls, links, files, events, groups, and chat with other members.

Mighty Networks doesn't sell any of your data and your Host agrees not to sell the Membership List to a third-party or disclose it for commercial purposes unrelated to the Mighty Network. You can read our full Terms of Use here.

https://faq.mightynetworks.com/hc/en-us/articles/9390062537997-Does-Mighty-Networks-Sell-My-Data-
I should also add that content posted inside the community will not be subject to search engine indexing and will not show up in internet search results.
Evolution over Time
Even though I've put a lot of thought into dialing all of this stuff in for the launch, I am also really excited to see how the community evolves over time in response to what members want and need.

Membership & How it Works
Basic membership in The Quorum isn't free, and I really debated this point with myself to make sure it was the right move. A platform with all the resources I've put into The Quorum (and plan to add in the future) can't be run on goodwill alone. I decided in the end to charge a membership fee so nominal that anyone seriously considering building a new home, even under the tightest of budgetary constraints, will find so much value in their membership that it will basically make it an easy decision and well worth the nominal cost.
Right now, the basic membership fee is set at $4.99 a month if you pay monthly, or $49.00 a year if you pay annually. Basic membership also comes with a 2-week all access free trial, meaning you can join for free for two weeks, take full advantage of the Quonset Nuts & Bolts course and other features, and cancel before your credit card is charged.
Once you purchase, you will be locked into your purchase price as long as you remain a member. In time, I plan to add even more great features, and as the community grows, I expect I will raise the price for new members – so now is a great time to join.
Also as of this writing, in October 2022, there is a second membership option that I am not going to leave open very long. For a limited time, if you purchase a $49/year membership (with no free trial period) you will also get a 30 minute one-on-one consultation with me to discuss your project. The consultation can be via Zoom or phone, and you will have up to a year to book it. For me to offer a $49 consult is pretty unheard of! My regular rate for a one-on-one Zoom call is $250 an hour. Plus the material in the Quonset Nuts & Bolts course is worth a lot more than $49 all by itself.
I hope you'll join me inside The Quorum!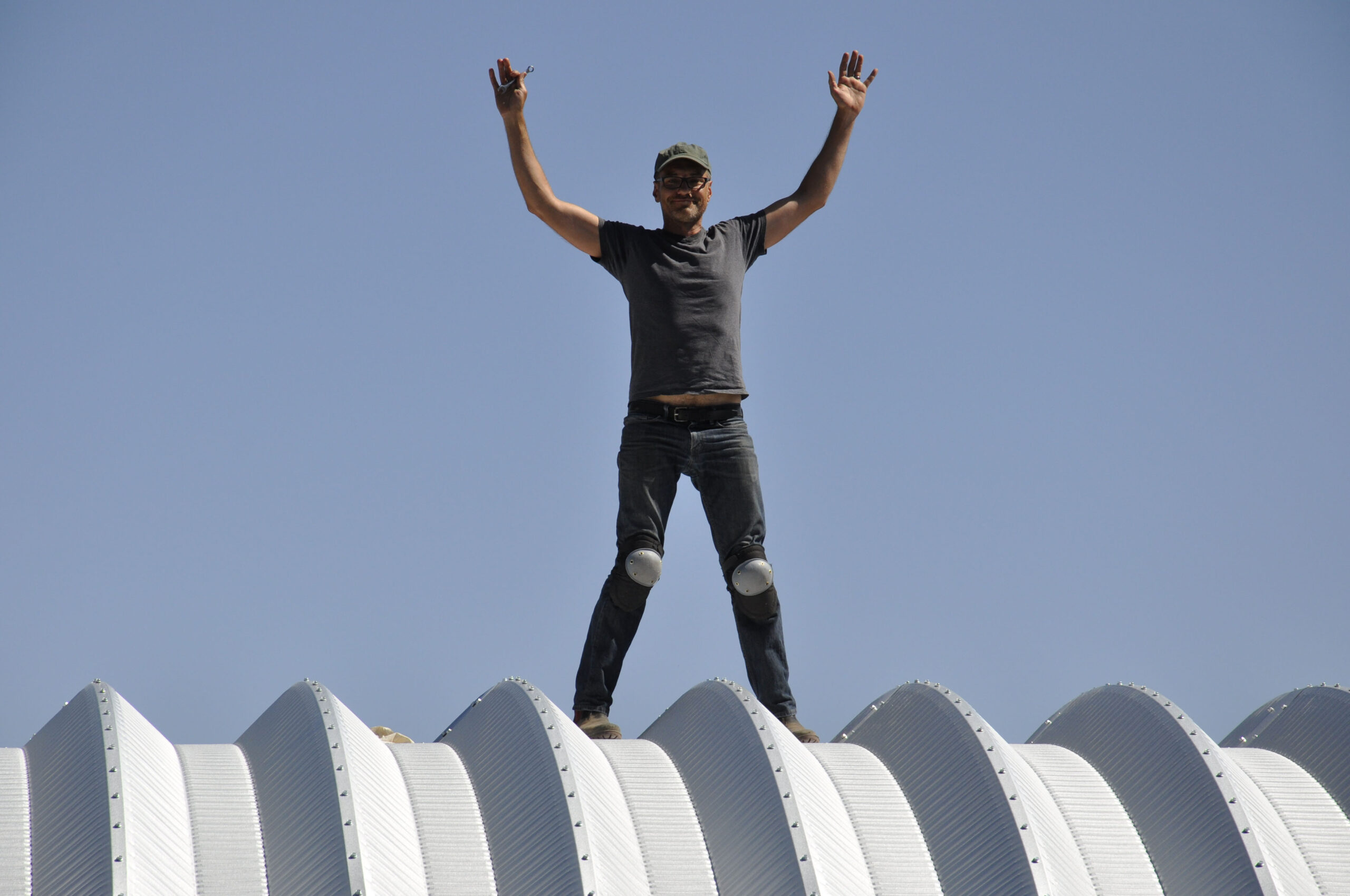 ---
---
Curious about Quonsets? Ready to learn more about these bizarre, amazing, shiny, round, prefab structures? Drop your info below and I'll start you off on my email tutorial series. Looking to build an inexpensive but beautiful home debt-free? Considering going off-grid? Or are you just tired of the same old same old and want something unique and beautiful? A Quonset House might be the answer for you.
Follow us on Instagram and Facebook. We also have a private Facebook group called DIY Quonset Dwellers, where we share discussion, design, and construction tips with others who are interested in building their own Quonset hut house. With over 6,000 members and counting, the Facebook group has grown into an amazing resource all of its own! Learn more and request to join the Facebook group here.