---

About the Quonset Project Start-up Guide
I'm more excited than ever about the Quonset Project Start-up Guide! I've been compiling it over the past few months, but really it's been something I've wanted to do ever since we started building our very first Quonset hut back in 2017. The feedback so far has been awesome from Facebook group members and email newsletter readers. As a sneak-preview, I have decided to publish the table of contents with a brief description of what each section will include.
If you're seriously considering building your own Quonset hut, whether for a workshop, home, or some other use, read on!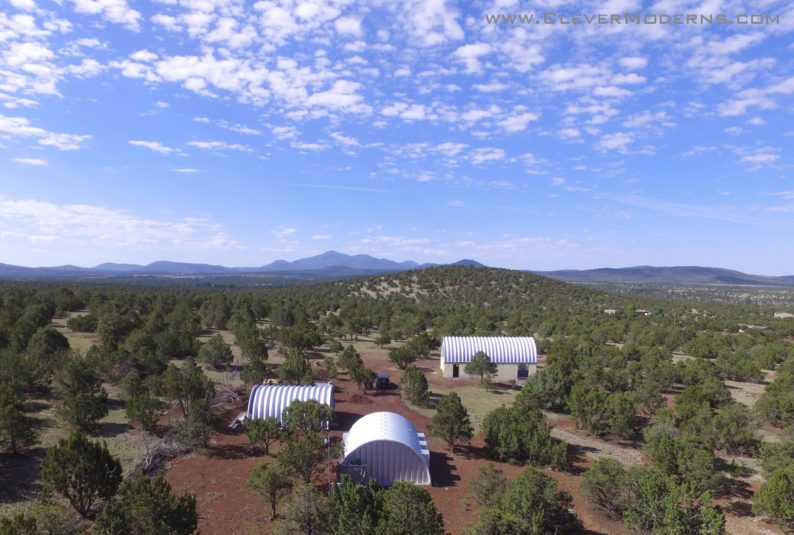 The Guide is still a work in progress (and thus subject to change), but what follows is more or less the final outline. A few great ideas didn't make the cut, mainly because I think they are such big topics they deserve their own book or e-book to do them justice. A big one in that category is how to make your Quonset hut ULTRA-energy-efficient/net zero/off-grid. At some point I really want to dive deep into that topic, but that will have to be for another day.
So check out the TOC below and, as always, leave me your feedback! I love hearing from readers – hearing from the community is the best way for me to keep my content relevant. Either leave a comment below, email me, or use this contact form to message me.

1. Don't get Burned: Read This Before Ordering Your Quonset Hut
As I work with my clients on their Quonset hut homes, as well as interact with the community in our Facebook group, I've become acutely aware of many common misconceptions people have about Quonset huts. This first section of the Guide will delve into the things I wish I had known, and what I consider you need to know, before putting down a deposit on a building kit.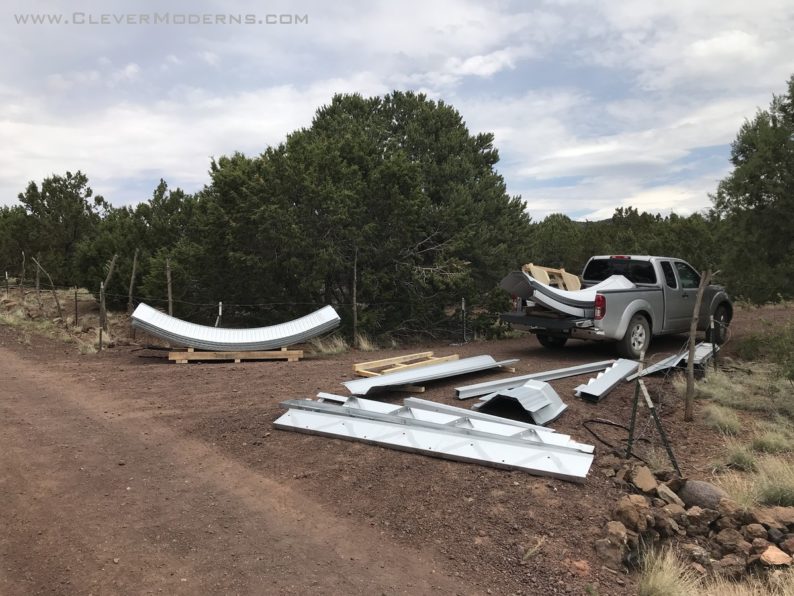 The sales reps from the manufacturers can be very slick and fast talking, and people often get sold buildings they didn't need, or a size of building that doesn't really make sense for them. I've even seen people so convinced they were getting an amazing deal that they put a down payment on a building when they didn't yet even own land to build on! Sadly, many of these building kits end up getting sold on Craigslist after sitting around collecting dust for years (and probably being colonized by rodents). (And for the record I think buying one of these buildings off Craigslist is usually a terrible idea!)
Unlike the manufacturers, I have no vested interest in whether or not you ultimately build a Quonset hut or some other type of structure. I have plenty of clients keeping me happily busy designing their dream Quonset Home(s), and I'm 100% honest with a potential client if I think a Quonset hut is not for them. The manufacturers and their sales reps have monthly quotas and strict no-refund policies, and you really need to know what you're doing BEFORE you contact them!
I can't emphasize this enough: you ABSOLUTELY MUST educate yourself as much as possible before talking to a sales person. I'm convinced that this section of the guide will save people thousands of dollars all by itself.

2. Quonset Hut Profile Diagrams
The next section of the guide is a series of diagrams. The profile diagrams are scaled, dimensioned drawings that I created to help you plan your build, by showing you exactly how much overhead clearance and floor area you get with various standard size Q-model and S-model Quonset buildings. The diagrams will show building widths ranging from 20′ up to 50′.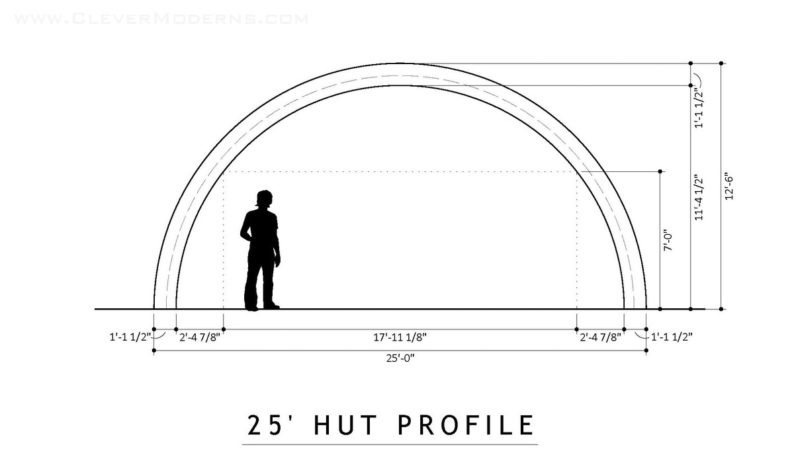 Most manufacturers can make larger sizes, and some of them can do custom sizes (for a lot more money), but the 20′ to 50′ range are the most common and most practical for folks looking to make a house out of one.

3. Strategies for Preventing Leaks
A properly assembled Quonset structure, in all likelihood, won't leak at all. But, I'm sure you've heard the old saying that "a chain is only as strong as its weakest link."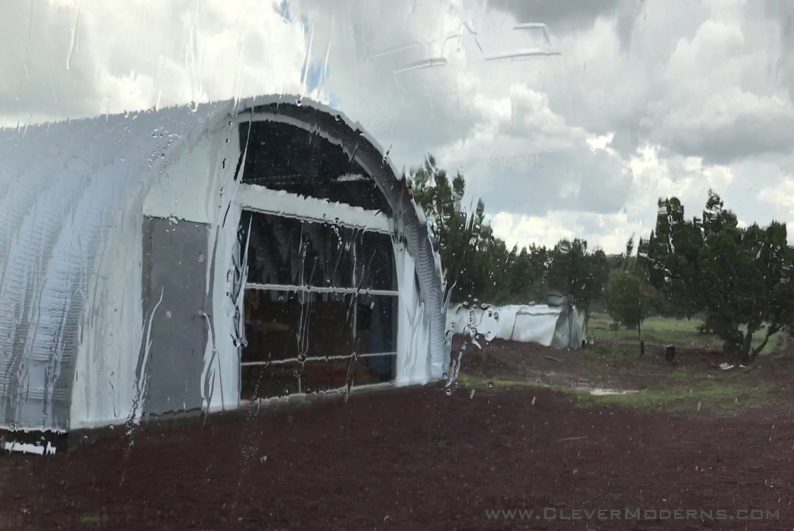 Based on my experience with our huts at the Quompound, this section will deal with the areas where, if they're going to happen, you are most likely to see leaks. I'll also spell out the strategies we employed – some of which we learned in hindsight and some of which we did proactively – to help you prevent leaks in your building.

4. How to Attach End Walls to your Quonset
If you're building a house out of a Quonset hut, I strongly recommend you build your own end walls rather than order them with your building kit. You will have more flexibility with your design, as well as much better performance from your building.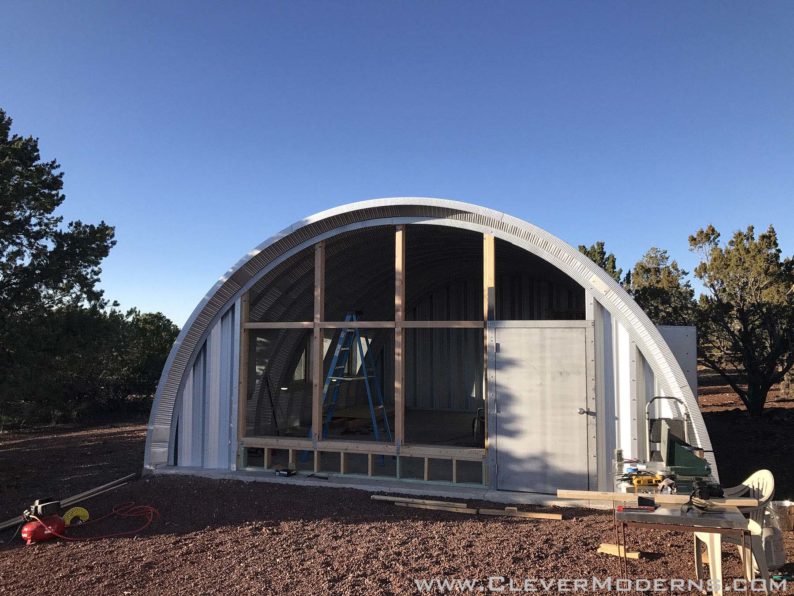 People often have trouble figuring out how to attach wood-framed end walls to the metal Quonset hut arches. In this section I will demystify the Quonset hut end wall and share the methods we've used on our own huts at the Quompound, as well as what I've done with my clients on their projects. I've developed some pretty cool details for this if I do say so myself, and I'm really excited to share them. I get asked about Quonset hut end walls a fair amount, and I think this section will be super helpful.

5. Quonset Hut Insulation + Condensation
Insulation may be the most-asked-about topic in all of Quonsetdom!
In this section I'll break down the pros and cons of the methods most commonly used for Quonset hut insulation, and give my opinion of each. Plus I'll share the insights I've learned from our own experience insulating our Quonset huts at the Quompound.
A related issue with Quonset huts is condensation on the inside, and I'll discuss that topic as well.

6. Tips for Assembling your Arches
The manufacturers all have their own manuals and guidelines for putting together their buildings, and I'm not trying to replace their instructions or duplicate them. But there are things we've encountered assembling our huts at the Quompound that are definitely going to be useful for you with your Quonset hut build, especially if you're DIY-ing your project.
Sometimes it's the little things you can only learn in the trenches that make all the difference – and I'm out to share all those little details with you. Bolting up your arches can and should be fun! I'll guide you through it with my best tips and tricks.
---
Get on the List and Get the Guide!
If you want first dibs at the Guide when it comes out, sign up for my email list below! Something I'm not mentioning that you wish were included? Let me know in the comments.
---
Curious about Quonsets? Ready to learn more about these bizarre, amazing, shiny, round, prefab structures? Drop your info below and I'll start you off on my email tutorial series. Looking to build an inexpensive but beautiful home debt-free? Considering going off-grid? Or are you just tired of the same old same old and want something unique and beautiful? A Quonset House might be the answer for you.
Follow us on Instagram and Facebook. We also have a private Facebook group called DIY Quonset Dwellers, where we share discussion, design, and construction tips with others who are interested in building their own Quonset hut house. With over 6,000 members and counting, the Facebook group has grown into an amazing resource all of its own! Learn more and request to join the Facebook group here.