The other week we made our last trip over to the property for the year. What a year it was! But I can't wax poetic on 2017 just yet. I need to update y'all on our latest progress, and save all the "year in review" stuff for a future post.
This trip was all about moving forward with the last of the plumbing and electrical rough-in for the Workshop and Headquarters buildings.

Workshop Electrical System
I haven't posted much on the workshop electrical system thus far. It's pretty basic, just a subpanel and some outlets.
We mounted some plywood around the door to attach the conduit to, and I used blue tape to map out where the conduit would be attached. Then I got the MC cable cut to length and screwed on with little hold-down clips.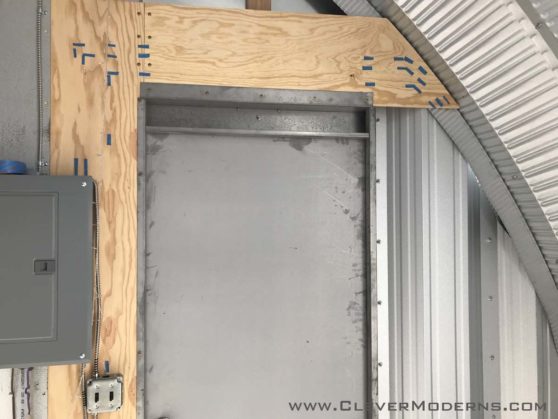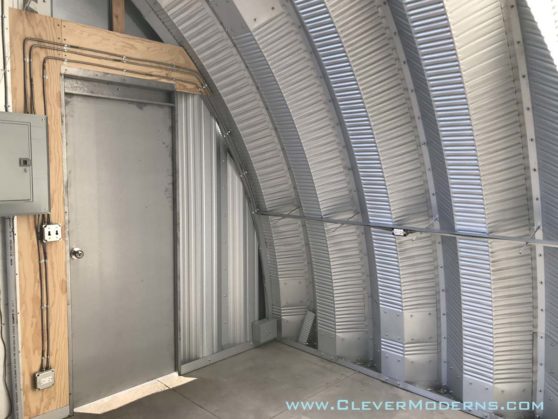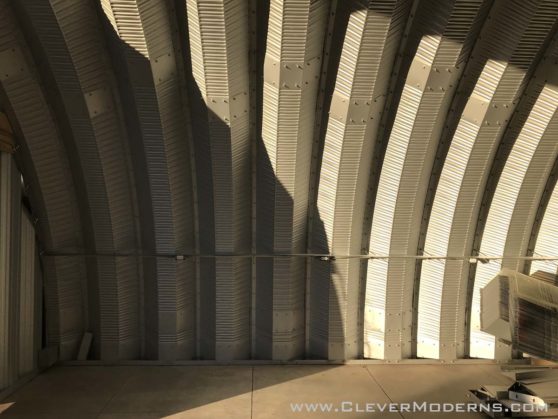 Headquarters Electrical System
Over in Headquarters, most of the work had been done on our last trip over. All I had to do was install two switches and fasten the MC cable down to the 2×4's.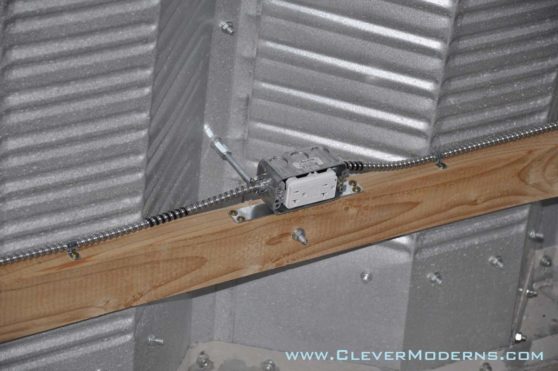 In Other News…
The other main task was to finally install the flashing over the windows. The Zip System liquid flashing that we had used before (see this post) worked great for this. It was pretty cold out, but the manufacturer's info says you can use this stuff anywhere between 35-110 degrees out (that's Fahrenheit for those of you reading this from the Celsius parts of the world). Over two days, I took a break from the electrical work at around noon, and spent a few hours working on the flashing during the warmest part of the day. It was in the mid-50's at that time both days, which made for a pleasant task.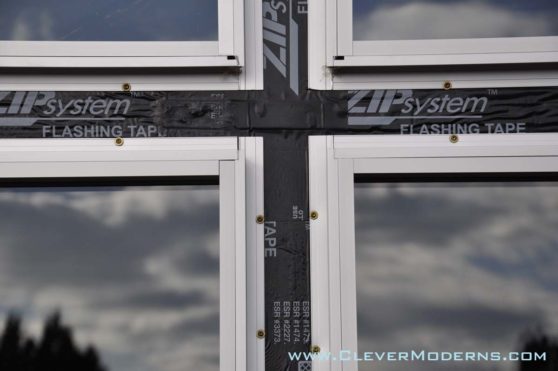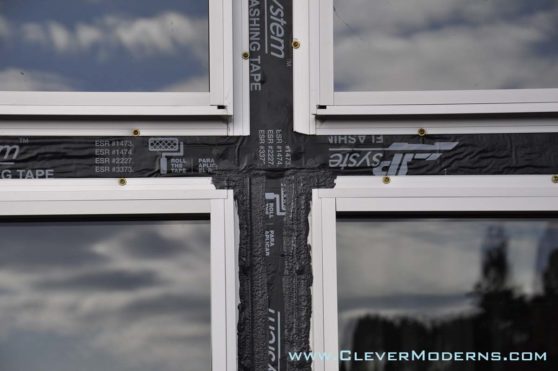 We have our wood stove on site now! It's little and cute and we're really excited about getting it up and running in the Headquarters. That probably won't be for at least another couple of trips over, and it won't get much use this winter, but still it's pretty exciting. It was the smallest one we could find. Our little building is only about 600 square feet, and this one is rated for 800-1,200 s.f. If you're curious about the exact model, here is the link to it on Amazon.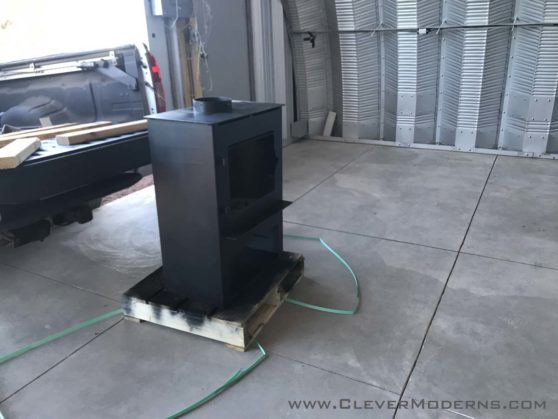 We also got our giant utility sink set up, although it's not hooked up yet. But it's out of the box, the legs are installed, and it's ready to go. It's huge! We love how it fills the area at the window.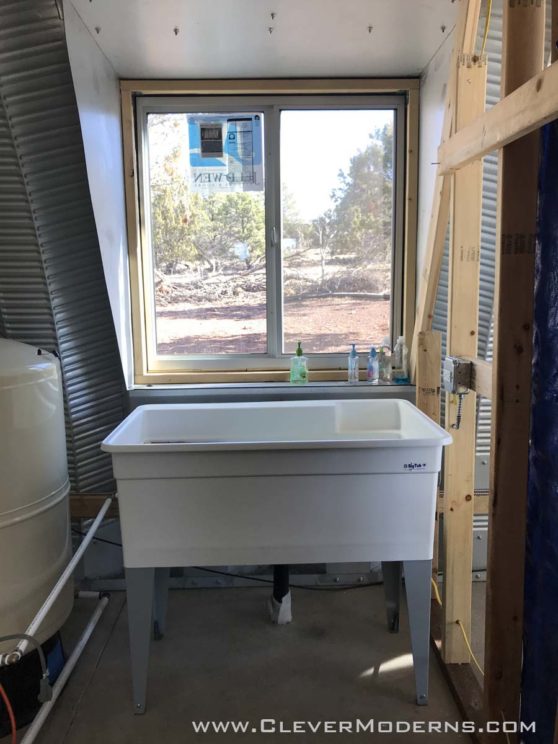 Glorious Arizona Night Sky
Lastly, there was a special treat in the night sky. I was looking for Geminid meteors, and was bummed that I didn't see any. I was excited to get this image of Orion rising over the Workshop, with an airplane streaking into the picture from the right side. But the next night I saw something even more special.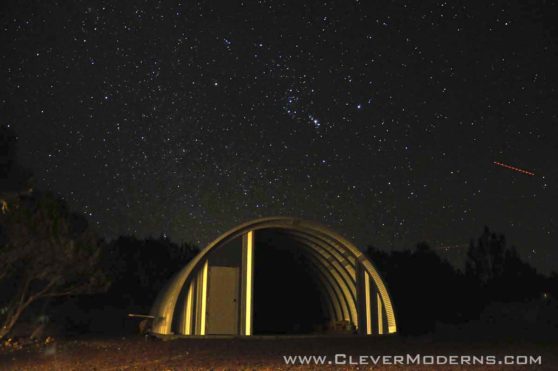 I have an app on my phone that notifies me when the International Space Station is going to appear in the sky overhead. It's awesome and I'm always excited when I suddenly (usually completely unexpectedly) get the 5-minute warning to drop what I'm doing and run outside to see it fly over. On this trip I got the alert! It was perfect timing, since my camera was still set up on the tripod from the previous night's shooting. I ran outside to try and get a few pics.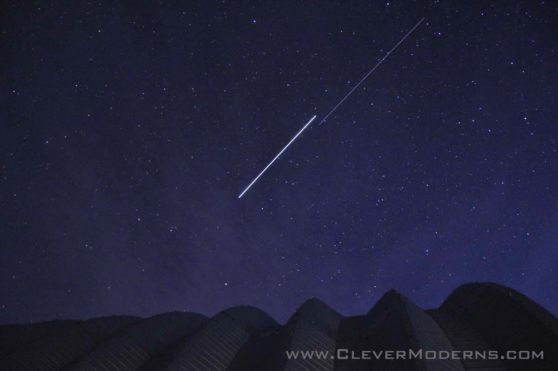 The bright streak at the center of the photo is the ISS. What I didn't expect was that second streak! At first I didn't know what I was seeing. We often see satellites passing overhead (yes the sky there is really that dark) but a satellite tracking on nearly the identical path as the Space Station? Then I learned from a friend on Facebook that it was the SpaceX Dragon, moving into position to rendezvous with the ISS the next day. Apparently this particular orbit was being tracked by space-aficionados worldwide, and I just happened to see it and capture it with my camera as they flew over the Quompound. It was really a magical moment.
We had our inspection as planned and the county inspector only had a few minor comments. For the most part we are on a good path, and the corrections he asked for aren't a big deal.
The main things we now need to finish up are the wood trim and cladding on the front around the windows, trim the side windows, and to close up the bathroom walls. We also need to hook up the giant sink, and hang the inside and outside lights. The outside lights are going to be special and I can't wait to update you on those when we get to them!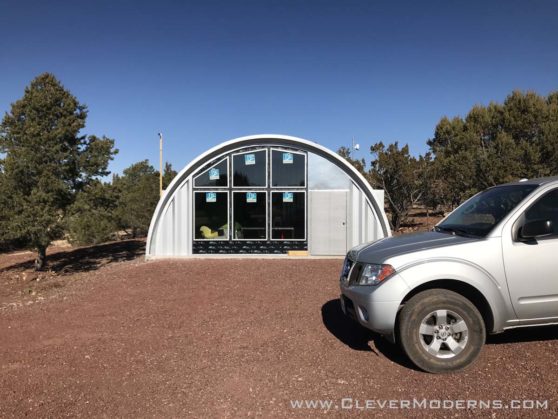 We have our next trip planned for mid-January. We don't expect to get everything done on that trip, but hopefully the trip after that we will be able to call for our final inspection on these two. We're closing in!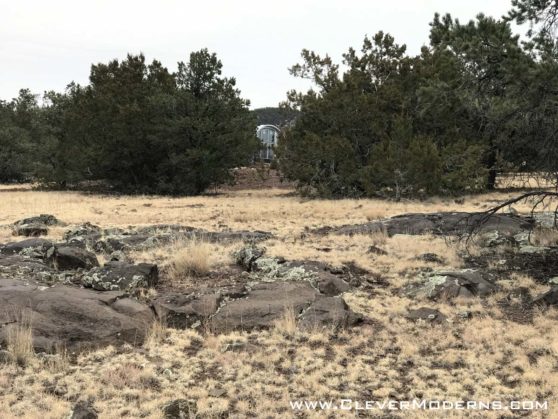 ---
Curious about Quonsets? Ready to learn more about these bizarre, amazing, shiny, round, prefab structures? Drop your info below and I'll start you off on my email tutorial series. Looking to build an inexpensive but beautiful home debt-free? Considering going off-grid? Or are you just tired of the same old same old and want something unique and beautiful? A Quonset House might be the answer for you.
Follow us on Instagram and Facebook. We also have a private Facebook group called DIY Quonset Dwellers, where we share discussion, design, and construction tips with others who are interested in building their own Quonset hut house. With over 6,000 members and counting, the Facebook group has grown into an amazing resource all of its own! Learn more and request to join the Facebook group here.