Quonset Hut Build: Can you build a T-shaped Hut?
This question comes up from time to time in our Facebook Group so I decided it would make a good topic for a YouTube video. The short version: I wouldn't rule it out as completely impossible, but let's just say the idea of a T-shaped Quonset hut presents some nontrivial challenges.
To be clear what we're talking about, here's a snapshot of the 3D model I built to study this shape of Quonset hut: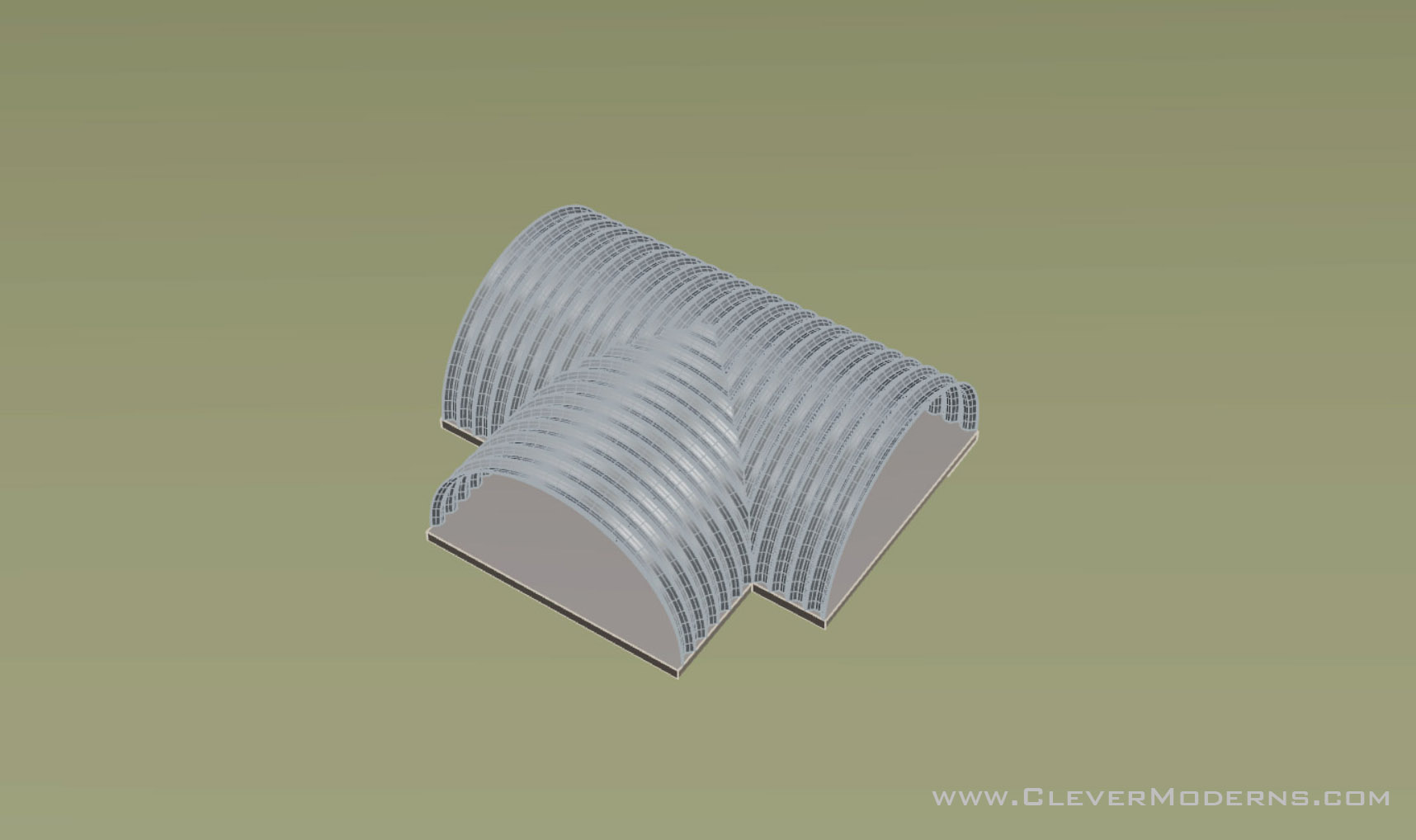 I think the challenges presented by this kind of thought experiment, along with the ensuing discussion, also help illuminate the real strengths of a standard shape Quonset and why they're such efficient structures. So I hope you will give it a watch even if you aren't planning or dreaming of a T-shaped Quonset hut in particular. 
Do you have an idea for a Quonset hut-related YouTube video you would like to see? Or a subject related to Quonset huts in general or Quonset hut houses in particular? If so, feel free to leave it in the comments below or drop me a line via the Quonset Q&A link up top.
Cheers & thanks for stopping by!
Follow our Quonset Hut Home Builds!
Laugh with us. Cry with us. Gaze the Arizona night sky with us. Our monthly newsletter will bring all our construction adventures to your inbox: the challenges, anecdotes, wins, and lessons learned as we build our prototype Quonset Hut Houses in northern Arizona, and launch the Quompound as a Grand Canyon vacation rental destination. Unsubscribe any time if it's not for you.
Follow us on Instagram and Facebook. We also have a private Facebook group called DIY Quonset Dwellers, where we share discussion, design, and construction tips with others who are interested in building their own Quonset hut house. With over 800 members and counting, the Facebook group has grown into an amazing resource all of its own. Learn more and request to join the Facebook group here.