---
A few weeks ago I shared a pic of this project on Instagram with the caption, "I've been doing a lot of client work that I haven't been sharing — call it overwhelm, call it residual pandemic burnout, I'm calling it DONE! Starting today you're going to hear a lot more about the custom Quonset House projects I've been working on with my awesome clients."
I took on a LOT of work in 2020, and based on conversations with colleagues all over the country, turns out I'm not the only architect who did the same and subsequently suffered from burnout in 2021. But with the same breath that I go on about pandemic burnout, I have to acknowledge that in many ways it was the privilege of working with such amazing people on their custom home designs that got me through.
I started to gently tap the brakes towards the latter part of last summer, and managed to make it to the holidays without too-too much weighing on me. I actually enjoyed the holidays and year-end, and now I'm ready to take on 2022 with full force!
Anyway, my main New Year's Resolution this year was to share more about all these projects, so here goes!
Project Overview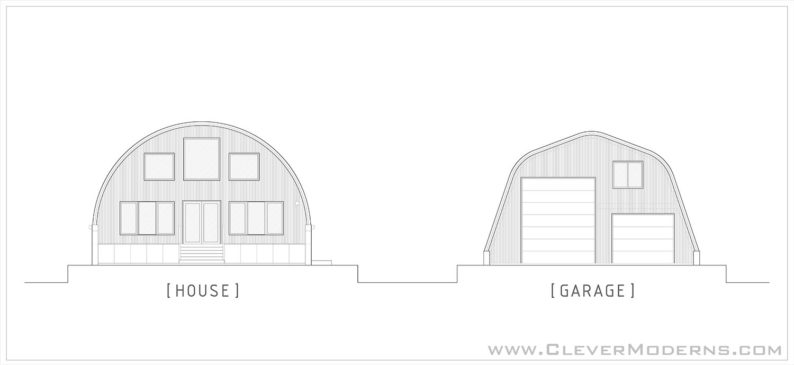 These clients approached me to design their Quonset hut house and workshop buildings, having already made a purchase deal with SteelMaster for the two huts. I prefer working out the design before the client buys their building(s) – it can save a lot of hassle when they see how much space all the things they wanted actually take up when it's all drawn to scale, and then want to either add to or change their building order (if it's even possible at that point). But in this case it was all fairly reasonable and we were able to make it work.
The workshop/garage building, currently under construction as Phase I of the project, utilizes a model X35-20 which is 44′ long. It will have parking for an R.V. as well as a full-sized SUV or pickup truck. In addition, there will be a 3/4 bath downstairs with a loft all along the side above the smaller parking space (the right hand side in the pic above).
The house will be built as Phase II, and will be a Q36-17, which is a custom size, by 30′ long. It will be 4 bedrooms + 2 baths with a full basement. My clients are a young couple with two (adorable) little kids. They are building most of it themselves, with the exception of a few very specialized things like the concrete work and septic system. Their place is completely off grid and will be solar powered.
Their site is a rural, off-grid 38~ish acre parcel in Navajo County, Arizona. The terrain is rugged and beautiful. Not far from their place, I caught a glimpse of a soaring Bald Eagle!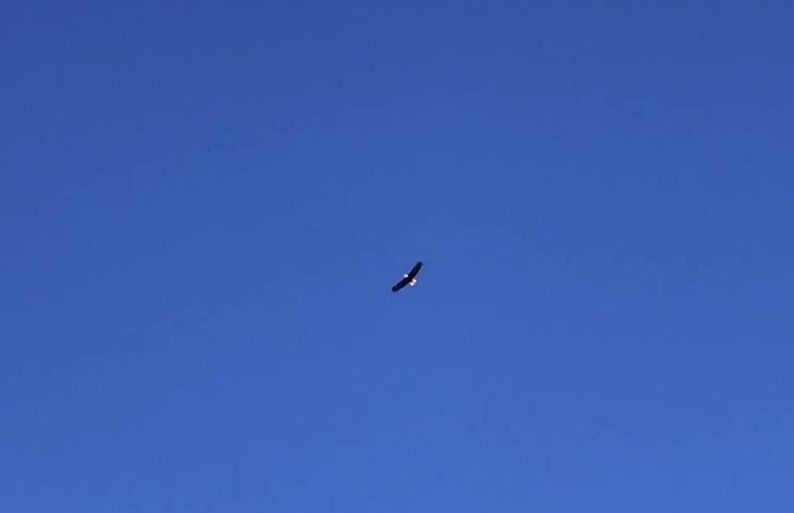 The X-model building for the garage/workshop sits atop concrete stem walls a couple of feet high. I was quite pleased – and impressed – to see how crisp and tight the concrete work turned out. I love how you can see the impression of the wood grain, from the concrete formwork, in the stem walls.
The concrete contractor used some kind of form release agent that stained the concrete dark gray/black and I love it!
Normally, I wouldn't probably choose the X model if it were for me, but the angled sides do have kind of a funky vibe that grows on you. This is definitely going to be an amazing workshop space!
I'll post updates as the project progresses. I love having a project close enough that I can visit! Many of my clients are far away – as far as Florida – and I don't always get the luxury of frequent site visits. But I have a few in Arizona that will be built in 2022 and I'm really excited to be able to spend a day driving around in the countryside, watching for Bald Eagles, exploring Arizona, and bringing it back to the blog.
---
---
Curious about Quonsets? Ready to learn more about these bizarre, amazing, shiny, round, prefab structures? Drop your info below and I'll start you off on my email tutorial series. Looking to build an inexpensive but beautiful home debt-free? Considering going off-grid? Or are you just tired of the same old same old and want something unique and beautiful? A Quonset House might be the answer for you.
Follow us on Instagram and Facebook. We also have a private Facebook group called DIY Quonset Dwellers, where we share discussion, design, and construction tips with others who are interested in building their own Quonset hut house. With over 6,000 members and counting, the Facebook group has grown into an amazing resource all of its own! Learn more and request to join the Facebook group here.