Quonset House™ Plans: How it Works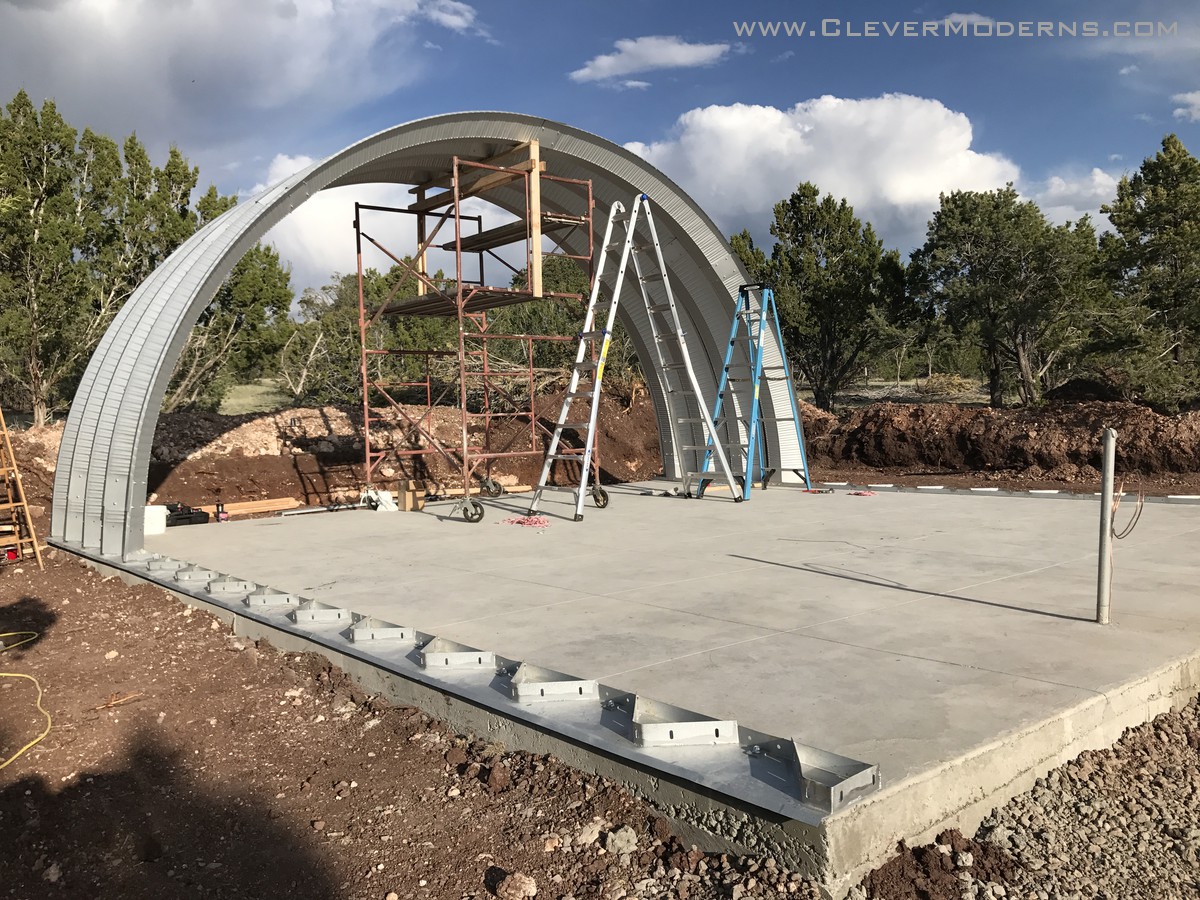 Ordering your Quonset House™ plans and ordering your Quonset hut building:
Here at Clever Moderns, we are home designers and Quonset House™ experts. We provide plans and other resources, but we don't sell the Quonset hut buildings themselves. For that, you need to go to a manufacturer or dealer to purchase your building directly. We suggest you browse our plans page, look at some of the different designs we offer, and use that exercise to inform your building purchase.
Understanding your sizing needs by getting your construction plans in hand first will put you in a better position of knowing exactly what you need when you go to make your building purchase.
Although you can easily adapt our Quonset House™ plans to any manufacturer's building of comparable size, we have based our designs and drawings on the models and sizes offered by SteelMaster.
Building permits & stamped plans:
Our Quonset House™ plans are sold without any kind of stamp or locally licensed design professional's seal on them. This is the case with pretty much any of the home plans sold online anywhere. Although requirements can vary widely by jurisdiction, most states do not require a licensed architect's stamp on plans for a single family home.
Pre-engineered steel structures however, such as a Quonset hut, do typically require the stamp of an engineer. When you purchase your Quonset hut from the manufacturer, they should provide you with a stamped, engineered drawing or drawings that clearly depict your Quonset hut arch structure and it's foundation design*. In many if not most cases, our plans plus your building manufacturer's engineered plans will be enough to submit for a building permit.
You are advised to contact your local permit office to verify their requirements.
In some places, such as parts of Florida (hurricanes), or California (earthquakes), you may be required by your local jurisdiction to have your plans reviewed by a local structural engineer. Think about it this way: the manufacturer's engineering and stamp are certifying that the Quonset hut shell itself, including its foundation, are safe for the location you are intending to build it. But the manfuacturer cannot, and will not, certify anything about your custom end walls or interior contents of the building. So the manufacturer's engineering does not cover those parts. Your local engineer's review, if required, would be to ensure compliance with your local code requirements.
Our What's Included page discusses some other things you may be required to provide, which for various reasons we are unable to provide along with the plans. See also our Terms & Conditions.
*Look for a circular red ink stamp with the following: engineer's name, license number, the name of your state, and an expiration date. We've found that some manufacturers issue drawings with a circular red ink stamp that simply states the name of the factory. This "copycat" stamp is NOT a proper engineer's stamp!