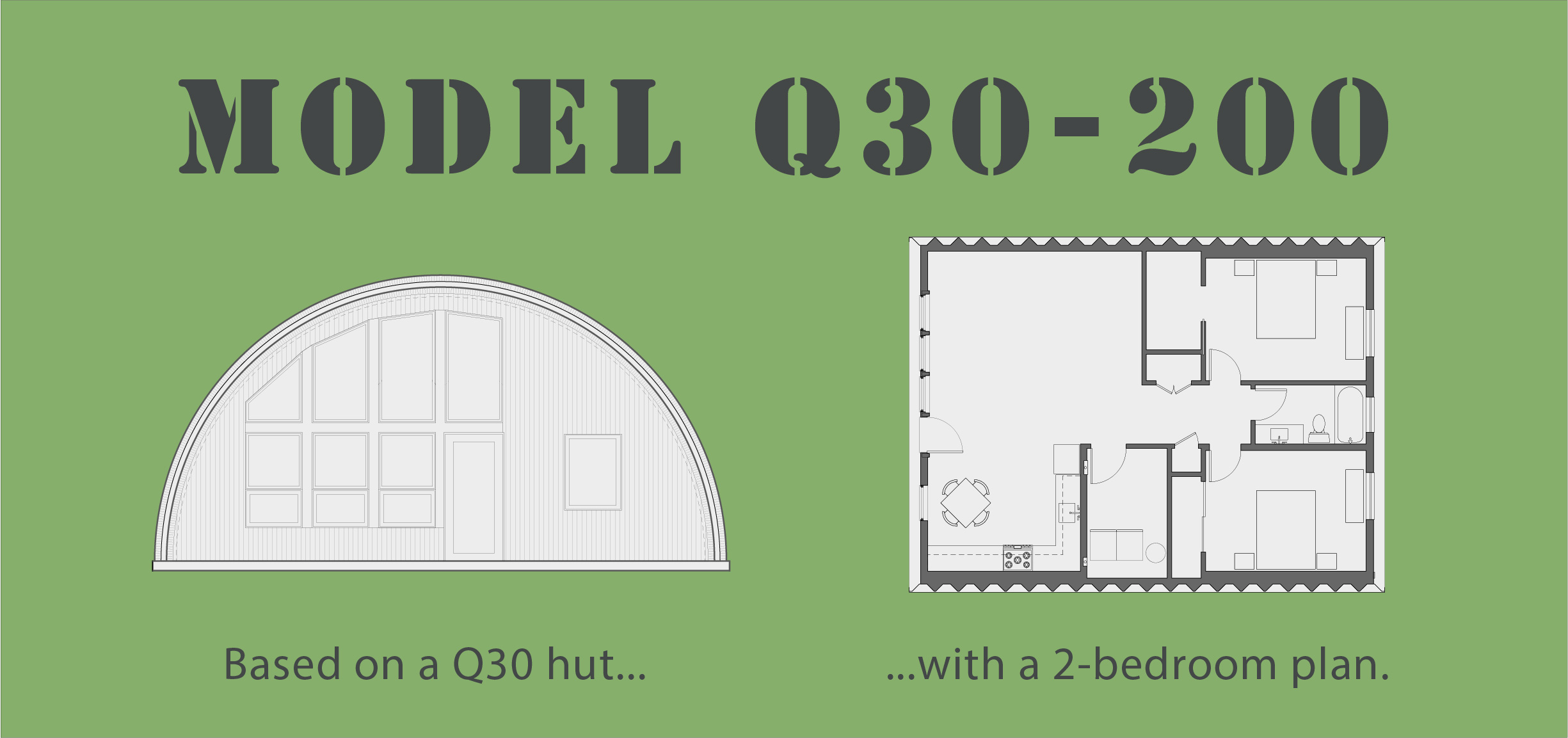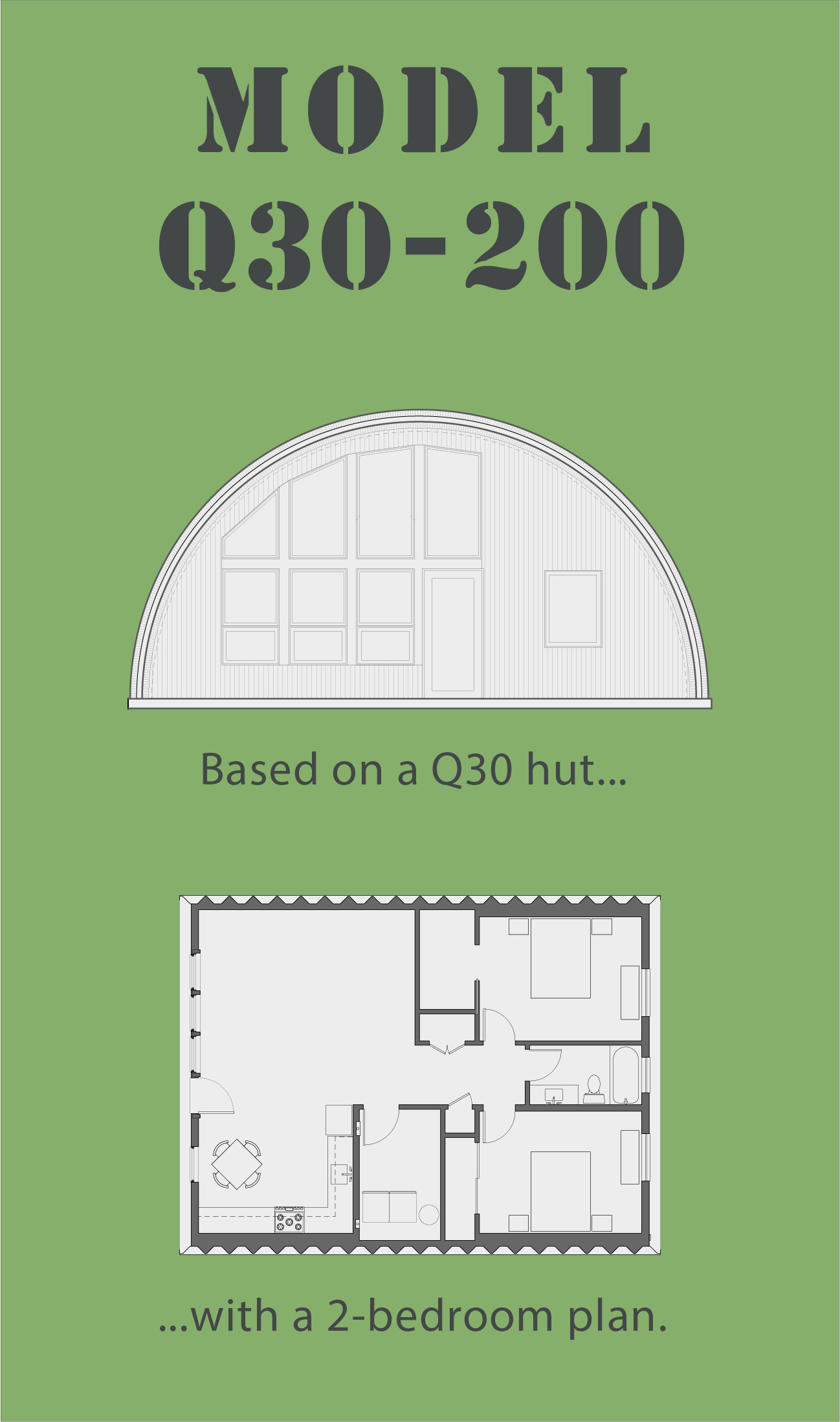 At just over 1,000 square feet, the Q30-200 is a compact two-bedroom, one-bath Quonset House design, based on the Q30 model Quonset hut. For a two bedroom home, the super efficient Q30-200 is about as compact as it can get. The front features a spacious, open plan great room with living area, kitchen, and dining neatly arranged under the clear-span arch.
There is a laundry/utility room located conveniently next to the kitchen, with room for the water heater – or the water heater can optionally go in the small attic space. At the back of the house are two bedrooms with the bath in between.
As with most of our Quonset House™ designs, there are many options you can modify to suit your individual needs. The attic could be extended over one or both of the bedrooms. The kitchen/dining layout shown is optional and could be changed to whatever you can dream up. Extend the Quonset hut shell in either direction to create as much covered outdoor space as you want!
Scroll to the bottom to download the free Floorplan Set or purchase Construction Plans.

About Our Plans
Since beginning construction of his own Quonset hut compound (aka The Quompound) in Northern Arizona in 2017, architect Earl Parson has made designing Quonset hut homes his specialty. He has created custom-designed Quonset hut homes for clients nationwide from Florida to California, and now has turned his expertise to making simple, ready-to-build designs available to a wider public.
Clever Moderns Quonset House™ plans reflect Earl's considerable hands-on experience with his own huts - numbering four and counting. His custom home clients have received the benefit of his direct experience with these unusual buildings, and now you can too.
The Quorum - our Quonset Forum
When you purchase your Quonset House™ Construction Plans, you'll also get lifetime membership in The Quorum, our private forum dedicated to supporting owner/builders along the Quonset journey.
Coming in the fall of 2021, The Quorum will be a place to share information and get support along with other Quonset House™ owners and builders. We'll have support in the form of online courses related to building and working with your Quonset hut, live video Q&A sessions, as well as access to Earl during his office hours. Plus access to a whole virtual community of other Quonset lovers!
The Quorum will be a private, ad-free experience. To keep it that way, we plan to charge a nominal membership fee - no more than a few dollars a month. But purchasers of our Quonset House plans will get free membership, at the highest membership level, for life!
Purchase pre-drawn
Q30-200 construction plans:
Price: $3,500.00
Included with your purchase, get a free 50-minute private Zoom consultation with Earl Parson, a $250 value. Use it any time before or during your build.
To learn more, see What's Included and How it Works, and our Terms & Conditions.
As an additional bonus, we're including a free half-size printed set in addition to the 3 full-size plan sets that are normally included with purchase. (All printed sets are in addition to the pdf you will receive digitally.)
All plan sets will be personalized with your name on the titleblock.
Shoot me an email to earl@clevermoderns.com with any questions or to purchase plans.
Still deciding which design is for you?
Download the Q30-200 free Floorplan Set.
By clicking the Get the Download button, you agree to our Terms of Use.